Team development outside your comfort zone:
If you want to achieve something

new

you have to do things you have never done before
Have you ever dreamt of doing something that seriously could strengthen your leadership team, something different from another boring workshop? If yes – then read on:
You and your leadership team are under constant pressure for increasing performance, innovate and change your organisation faster than ever before. You know your team well. You know how to communicate, you know each other's competencies, strengths and weaknesses very well and you have developed routines for almost everything you do. Your organisation pretty much obeys your decisions. So what can possibly go wrong?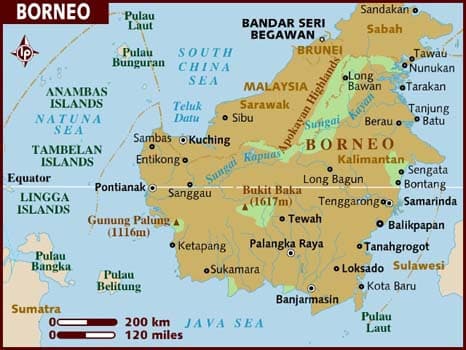 Everything!
We human beings don't like uncertainty and we don't like risks. That is why we like routines and stay together with people we know. It is safe and predictable. When leaders talk about change, they usually mean everybody else should change.
But if we remain in our comfort zone and never take risks and never do things in a different way, we will lose momentum, innovation power and agility.
Challenge yourself and your leadership team and come back revitalised
To get yourself and your team out of the gravity of comfort you need to put yourself in a situation where there is no comfort in your original definition. That is why Gugin organises survival trips to the Borneo rainforest for senior management teams around the world. Interested? Please read on
Why Borneo?
The rainforest on Borneo is the oldest and most untouched rainforest in the world – and much more interesting than Amazonas we think.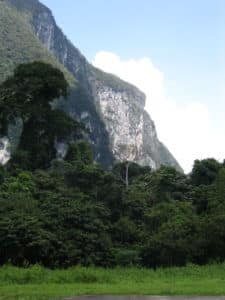 We will visit and stay with the headhunter tribe where you will get a unique experience unparalleled to anything you might have tried before. We will hike and sail through the rainforest while you will learn about the ecosystem and how interdependency and competition goes hand in hand. Later you can transfer that new reality to business and see what happens. We take a lot of things for granted in our modern lifestyle. Food is in the refrigerator and we can get clean water at all times. Here you will either have to hunt, fish or eat with the local tribes.

What will you learn?
You will learn to trust each other and you will learn to appreciate how much your colleagues in your leadership team is capable of when the situation requires it. Back home you have different roles, different level of authority tied together by a group culture that has evolved over a long time. We take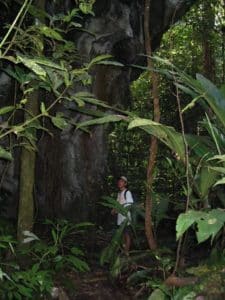 you 100% out of your comfort zone, which means that you start working together on a blank piece of paper. You might have some extra authority because you are the CEO, but out in the rainforest that title does nothing for you. If you can hunt or fish so that you don't go hungry, then you will be a hero and gain authority. You will soon discover that alone you are nobody. You will have to work together as a leadership team. You will also learn how the trees and plants are both each other's competitors and and the same time dependent upon each other in order to survive. This might give you new ideas to strategic alliences you have never thought about before. And finally you will more about your colleagues than you have ever imagined. you will come back home as a very strong, revitalised team because you have had a lot of unique experiences together .
Borneo Leadership Development Experience (BLDE11)
Day 1: Start in Singapore
We meet in Singapore (place to be disclosed) and go together to the airport together with our very experienced guide, Martin, who has done a lot of programs for National Geographic and Discovery Channel. We fly to Miri on Borneo (see map above) where we will check in to our hotel. Here you will receive a briefing about the tour, latest weather conditions and you will also have some time to take a look around Miri. In the evening we will have a traditional Dinner
Day 2: Flying deep into the rainforest – let the adventure begin
In the morning we will head for Miri airport and fly to Ba Kelalan airport (Ba Kelalan – LunBawang settlements). Lunch stop at one of our host family while re-pack. After lunch, We take the 4WD on a logging road to " Pa Bur " where we will camp for the night . Basic jungle basic jungle survival experience: learn about the herbal/medicine plant, edible wild fruits/vegetable, how to hunt for wild food such as meat/fish. Dinner will be from you catch . After dinner learn how the hunters go hunt at night . Overnight jungle camp. (Lunch/Dinner)
Day 3: Learn how to survive
The incredible noise from all the animals will wake you up at sunrise. We will have breakfast before moving on. On the way return to the village, Continue your hunting and fishing trip till lunch . After Lunch proceed to Buduk Nur and on the way do a short visit to one of cultural site – a salt spring. Return to our host family. Rest and evening and enjoy the warm hospitality of your host family
Day 4: Live the tribal life
We will spend the day in the village or in the rainforest – all depending on what the weather permits. We will participate in the activities and we can organise our own activities if wanted e.g. hunting, fishing, hiking etc
Day 5: Preparing to leave
After breakfast, bid farewell to our host family before heading to the airport for flight back to Miri. Back in Miri we will check in to the same hotel. We will host a short session on how we can apply the learnings from the rainforest to our business world. The plants and trees in the rainforest are extremely innovative when it comes to get access to the main resources; water and sunlight. Imagine we were equally innovative when it comes to developing and growing our businesses. You will definitely get new ideas. We will have a lovely farewell dinner in Miri
Day 6: Returning to Singapore
We fly back to Singapore where our journey ends
How does a typical program look like?
As all programs are customised to the needs of each leadership team it will be inappropriate to use the word "typical". Instead we will show you an example from a recent client, who needed to revitalise the leadership team after an unsuccessful merger of 2 companies. Here is what we did.
Before going to Borneo
We worked with the client to understand their mission, vision and their current short- and long-term objectives. We also assessed why the current leadership team wasn't working well together. Not surprisingly it was a lack of trust between the members of the senior management team that was one of the key issues. That was not surprising too as the current senior executive management team consisted of members from both companies and they were really good at blaming each other for the failed merger. We facilitated a 2-day workshop with the senior management team, where we presented our findings and got their approval of our conclusions and identification of the key issues. On day two we prepared the team for the trip and answered all the questions they had.
On Borneo
We asked the senior management team to meet up in Limbang, Sarawak which is in the Malaysian part of Borneo. We will spend a half-day in Limbang making sure we have all equipment in order and that all participants are properly prepared, From Limbang we will fly in a small plane (Twin-Otter) deep into the rainforest, where we will stay for 6 days and 5 nights.
Day 1 After having arrived at the landing strip in the middle of the rainforest we will hike around 10 km to the tripe where we are going to sleep the first night. Upon arrival we will inform you what to do and what not to do in the rainforest. We will have some great local food and get to know our host tribe.
Day 2 You will learn the basic things you need to know in order to survive in the rainforest. How do you catch fish, how do you build traps, which plants can you eat and which ones will kill you. You will learn about the complex relationships between the different plants in the rainforest.
Day 3 We leave early morning for a long hike. Parts of the journey may be by boat if there is enough water in the rivers. You will have to make sure you carry enough water – but not too much. We pass some huge caves – the biggest in the world actually where more than 6 million bats are living. In another cave, not far from there you will be challenged. Do you have the courage to go though a mountain in an underground river. It is totally dark and there are snakes and big frogs in the water. When we come out on the other side we take a cold shower under a waterfall before going by canoes yp the river as far as we can. Then we will hike and hopefulle reach our new host tribe – the famous headhunters before sunset. Otherwise we build a shelter in the forest and make a fire to keep the animals away.
Day 4 We go hunting with the headhunters or we go help them do some farming while we try to understand their way of living and why they appear so happy. No secrets disclosed here, but you will be very surprised.
Day 5 We are leaving the headhunter tribe for a whole day hike back towards the landing strip where the plane will pick us up the next day and fly us back to civilisation. It is a really long hike and you will all need to support each other as you don't want to miss the plane. When we reach the village we will have a great meal and celebrate our last night in the rainforest
Day 6 We hike towards the landing strip and wait for our tiny plane to arrive. We are going back to civilisation
Back in Limbang
We do a debriefing where we share experiences, learnings and recommendations for the team in the future. After lunch our part of the program ends.
Is it dangerous going to Borneo?
If you think of terms of being attacked by wild animals etc. most of it is entirely in your imagination. That said, you have to behave wisely (like everywhere) In terms of diseases the Malaysian part of Borneo is low risk when it comes to malaria (http://www.fitfortravel.nhs.uk/destinations/asia-(east)/malaysia/malaysia-malaria-map.aspx). We will not give any medical advises but you are requested to make sure you comply with the recommendations from your local health authorities.
Are the headhunters dangerous to stay with?
No , but we always ask our clients to pay in advance
How much does a trip like this cost?
It is impossible to say as all programs are tailored/customised to each client's needs. Please contact us for a discussion of what you need and we will be happy to calculate a quote for you.