– And why our modern approach delivers the best results for your team and your organisation when it comes to leveraging cultural diversity

Consulting
We help organisations develop cultures that support their strategies, goals and objectives

Training
We train organisations and their leaders to become culturally intelligent and culturally agile

Research
Gugin has a strong research unit so we constantly can provide our clients with the best services and the best training
Why should you choose to work together with Gugin?
Your reality is changing all the time, so the advice you receive, or the training you get or the help you get with cultural change processes should always be based on the current reality. COVID-19 forced organisations to rethink how they can maintain their corporate culture when many had to work from home and there was a high level of uncertainty in the business environment. Gugin started research projects and later developed models for how our clients could get through this transition. We needed new radical thinking and new solutions in this unprecedented situation-
Despite having been around for more than 20 years and having worked with hundreds of companies and trained thousands of people we constantly innovate our solutions and services based on the latest research and our experiences from working with our clients. That is the only way we can remain relevant to our clients.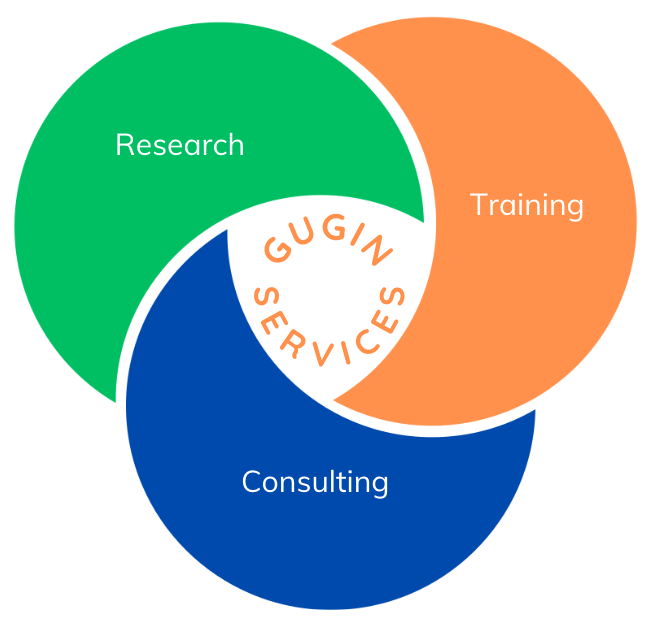 For instance, we never stereotype by putting people into boxes based on nationality, gender, profession etc. If you do that to just create the foundation for more cultural conflicts. Instead, Gugin focuses on how we can overcome differences by building on the similarities and teach the organisation to facilitate cultural change at all levels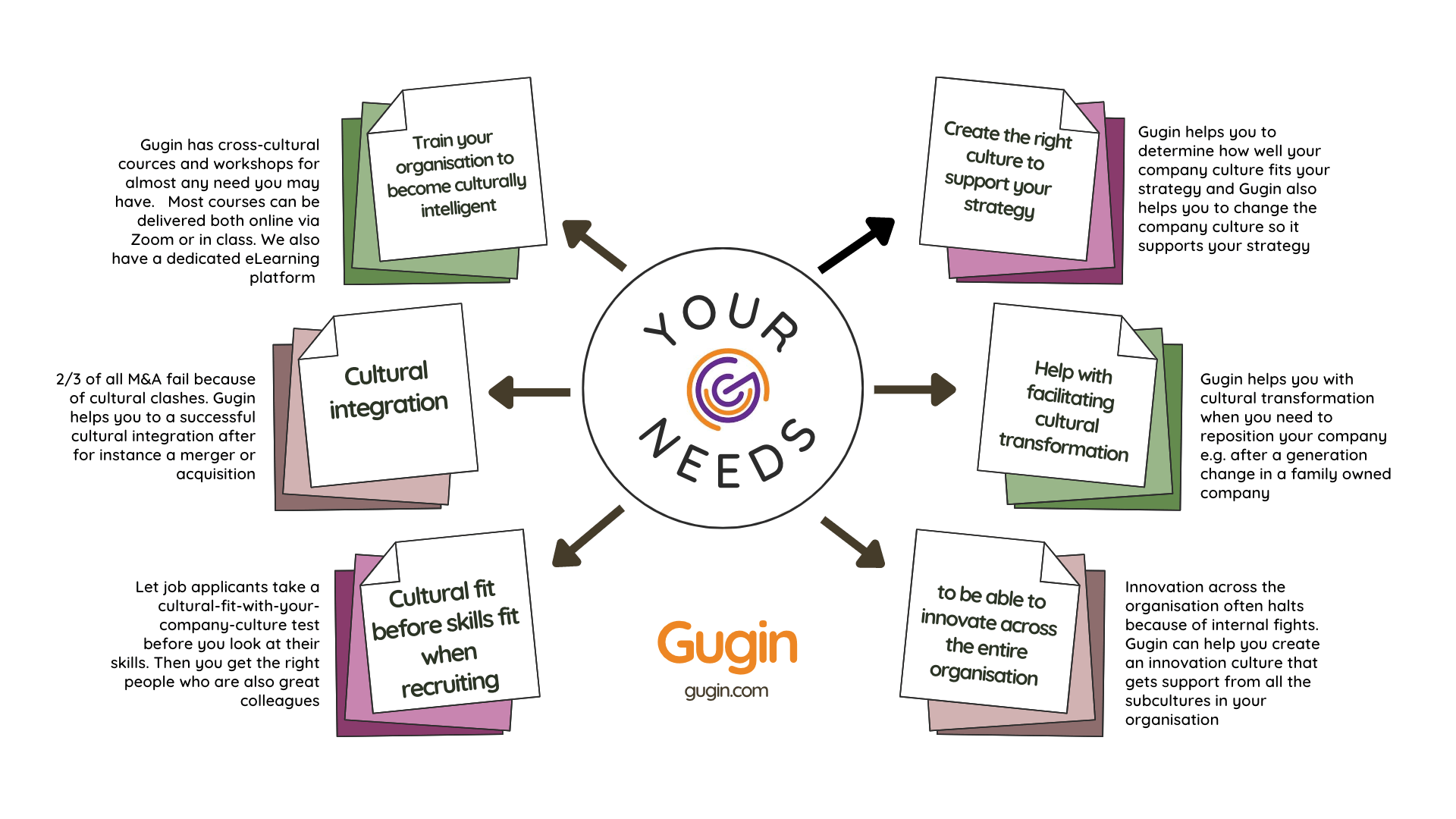 01.

Consulting
We provide insight into how future cultural challenges will affect your company and organisation
Which expectations does the next generation have for your industry, your company and your type of organisation? Which values are important to the future customers and how far is your organisation from having these values?

How close is your current corporate culture to the ideal culture that supports your strategic objectives in the best possible way and what are the true values in your organisation today?
02.

Training
We facilitate the cultural transformation of your organisation
We determine the current cultural DNA of your organisation and assess how well it fits your strategy and strategic objectives.
We outline the corporate culture you should have, in order to support your strategy and strategic objectives in the best possible way.
We develop a plan for the cultural change of your organisation that will accelerate the achievement of your strategic goals and objectives
Read more about our Training programs here
03.

Research
We conduct cross-cultural research projects either on our own initiative or initiated by our clients
We investigate how you can position you in the best possible way for the future cultural preferences, norms and values.
How will digitalisation affect the way customers perceive your airline or airport and how can it help your organisation to strengthen your corporate values?
Consulting and knowledge transfer
Whenever Gugin is facilitating a culture change project we teach the clients to do it themselves in the future. We do that because change is constant and it should be a process any organisation should be able to facilitate themselves
Project phases
All our projects consist of a number of elements. Each of them has a well-defined output – a delivery to the client. After each delivery the client can choose to continue working with Gugin, continue on their own or with someone else
Always anonymity
In most projects, we interview a lot of people and connect a lot of information. We guarantee anonymity for the people we interview, so no statement can be traced back to an individual. Individual interview notes will never be handed over to the client.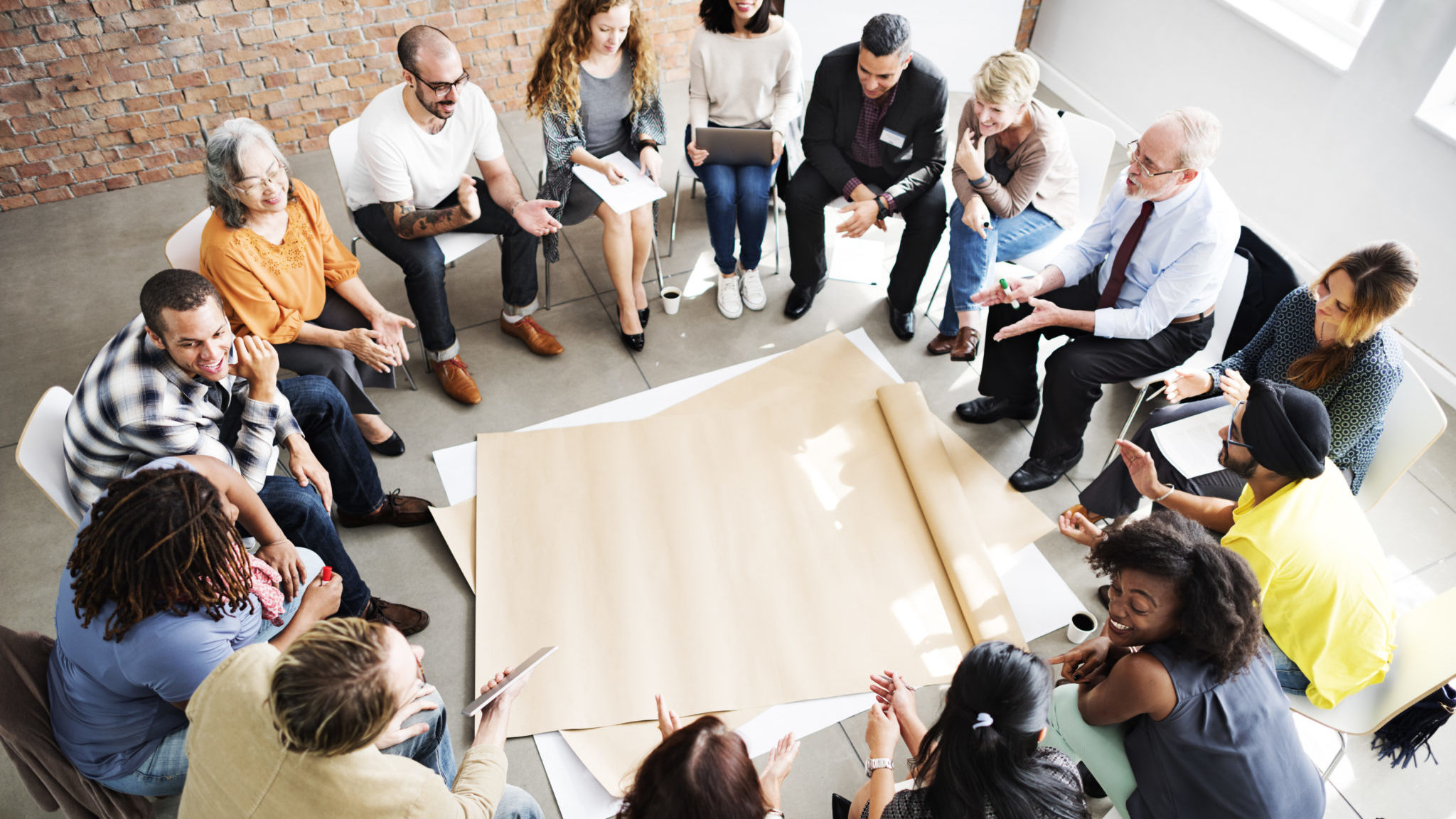 Anyone can copy your product or service, but nobody can copy your culture. You can only attract the best employees, the best customers and the best investors if you have a strong culture based on real values
Dr Finn Majlergaard – Founder, Gugin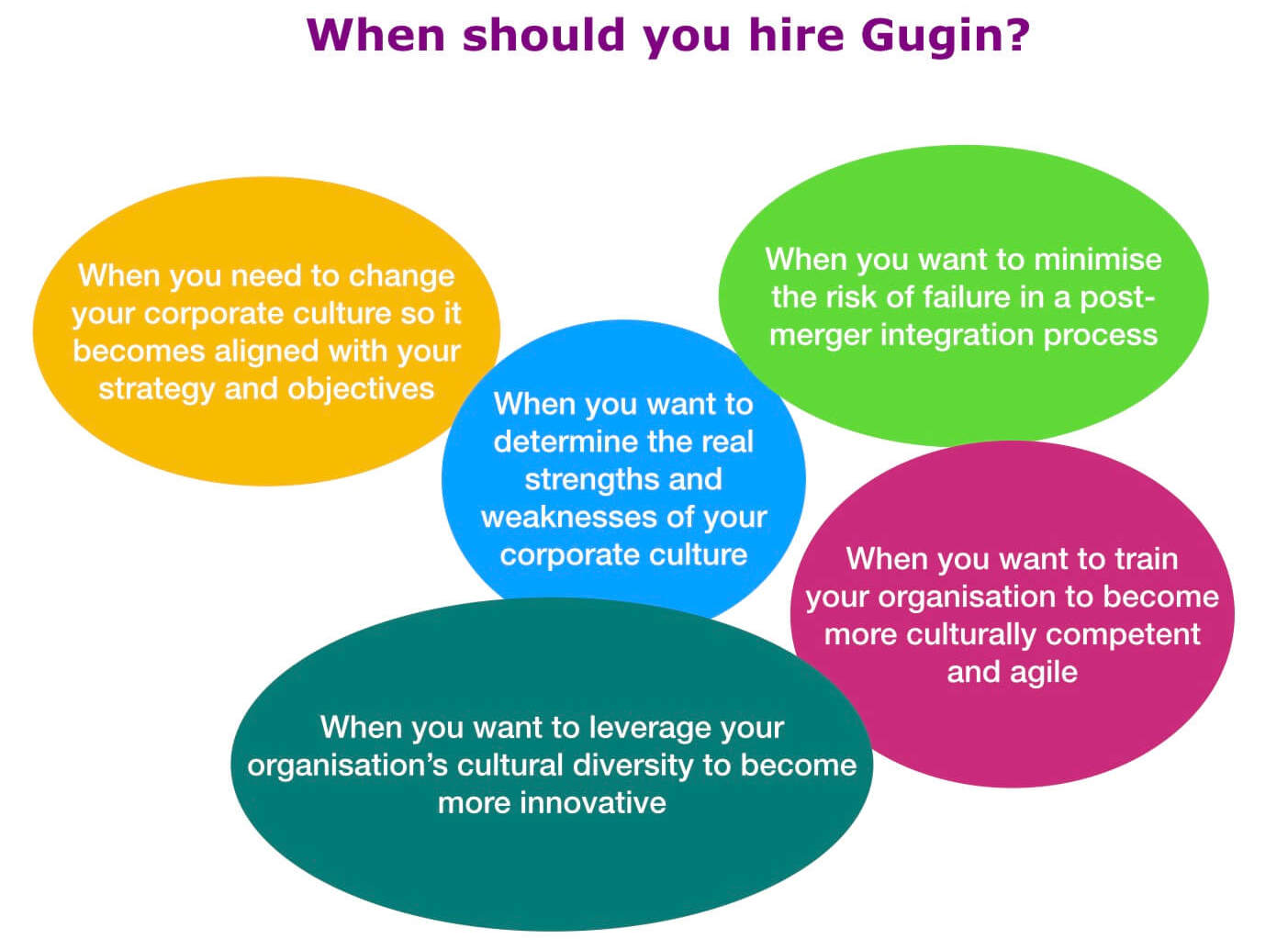 Here are some of our clients