Intensive Intercultural Training for your Organisation
intensive two-day intercultural training modules delivered anywhere you want it
You can put the intercultural training module together almost as you like to fit your specific needs and you can invite up 18 participants for each intercultural course module. Each course can be finalised with an online test and Gugin Training certificates to those who pass.
Click on each Course to learn more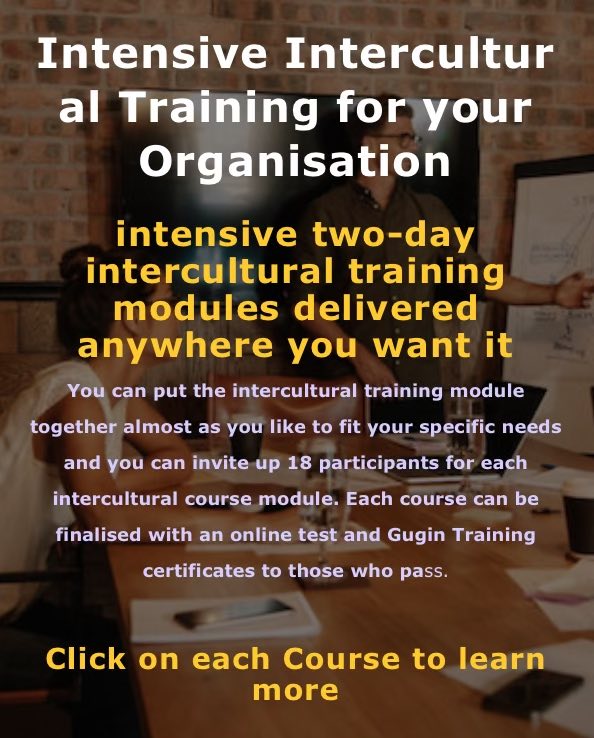 Facilitating cultural change in the healthcare industry can be challenging because we on one side have the experienced doctors who promote the best practices we are comfortable with and on the other side we have the younger doctors who promote all the new opportunities the new technology gives us. This workshop is about how we can reconcile this dilemma so both the older and younger doctors and the patients benefit from the diversity.
This Corporate culture integration workshop is designed to improve collaboration and accelerate the corporate culture integration process after a merger or acquisition over 2-3 days.
Innovation is crucial for the competitiveness of your company. Unfortunately, most innovation projects don't deliver the expected outcome.
Why do Innovation projects fail?
In short, because they are usually focused on a narrow part of the value chain. In order for innovation projects to really become successful, you have to innovate across the value chain, across corporate subcultures and sometimes with your customers and suppliers.
This 1-day course enables your organisation to work better together across profession cultures, national cultures, age-group cultures, company cultures etc. You learn to learn from people who have other perspectives than you. This way you all grow.
eLearning Intercultural Courses
This is the foundations of Cultural Intelligence course in the online version. You will learn the first levels of cultural intelligence